Jetzt haben sie mich! Irgendwann erwischt es wohl jeden. Vor ein paar Jahren, ach was, vor ein paar Monaten noch wäre ich niemals auf die Idee gekommen…
Doch irgend etwas ändert sich in Dir. Seit meinem letzten Post hier auf Kaiserundprinzessin ist viel Zeit vergangen. Meiner Tochter ist heute 2 Jahre alt, zusätzlich  haben wir vor wenigen Wochen noch ein zweites Mädchen bekommen. Und ihr könnt mir glauben im Moment geht es rund bei uns.
Trotzdem oder gerade weil es wohl doch so toll ist habe ich mich dabei erwischt wie ich gestern Nachmittag erstmalig etwas getan habe wofür ich viele andere Männer in der Vergangenheit, hinter vorgehaltener Hand, für nicht ganz Ernst genommen habe.
Keine Sorge ich habe keine Babysocke als Handytasche verwendet, gehe nicht mit zum Rückbildungskurs, esse nicht die angelutschten Brotkrümel meiner Kinder.  Soweit bin ich dann doch noch nicht und werde es hoffentlich auch nie sein, denn das verspotte ich ja noch heute.
In einem Moment voller Liebe und Fröhlichkeit habe ich doch tatsächlich getan was ich niemals von mir erwartet hätte: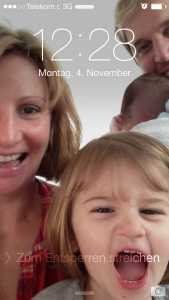 Die ganze Rasselbande als Hintergrundbild auf meinem ach so geliebten und bis dato coolem Iphone 5. Was rede ich da, ich finde es ja gerade mit dem neuen Hintergrundbild cool.
Das ist es ja was ich so unglaublich finde. Eben hast Du noch Mr. America, Thor, ein schnelles Auto oder wenigstens einen coolen Strand als Hintergrund und auf einmal lachst Du Dich schlapp über das Bild von Dir mit Deinen drei Frauen, die Dir manchmal fast den Verstand rauben…
Das war heute auch der Grund für mich den Blog um eine Kategorie zu erweitern: Family. Ab sofort erzähle ich Euch wie man mit genug Humor und Durchhaltekraft auch mit drei Frauen im Haushalt durchaus lebenswert den Alltag bestreiten kann und die Bande bei Laune hält.
Jetzt sind wir eine Herde… Euer Kaiser
Sagt mal wie handhabt ihr das? Gerade die Kerle unter Euch sind gefragt. Habt ihr Eure Liebsten auf Euren coolen Geräten wie Tablett, Smartphone usw. als Hintergrund? Bei den Frauen unter Euch ist mir das ja schon klar… oder?
Several of them chose the Under Armour All America High School game of a few weeks ago to declare their roster of choice. And of those kids, more than half will end up in foster care themselves. This habit was probably started very early in the user's baseball career and he finds
cheap jordans online
it easier to just continue with it than make an adjustment.. Jason Pierre Paul led the way with 3.0 sacks, one forced fumble, and a fumble recovery
cheap oakleys
which he took 43 yards for a TD to put the Giants ahead, 20 6, early in the fourth
Ray Ban Sunglasses
quarter. That year, Toyota produced more vehicles than GM, though GM still outsold Toyota that year, giving GM 77 consecutive calendar years of top sales.. The title sponsorship with SBS ends in 2019. (d) the temperature derivative of the resistivity, indicating a T linear behaviour at high temperatures at =0.3%. But, your average golfer hits the ball about 200 yards. Nonviolent resistance, on the other hand, has the opposite effect. However, buying CZR means you're also investing in things like showgirls and golf courses. We just don't thinkthe Packers can make it through without tripping up at least once, but they could make it interesting.3.
oakley sunglasses
cheap oakleys
All I'm saying is, let's temper our slobbering excitement ("Wheee! Flying toys!") and consider the consequences. Here, we investigated the effects of body mass as measured by waist to height ratio (WHtR) on regional cerebral blood flow using single photon emission computed tomography imaging in 38 healthy weight (WHtR mean 49.34 age 58 and 38 overweight (WHtR mean 58.7 age 58 retired National Football League football players. "I think the conditions that were involved with it, it's not going to be that cold," he says. For three years, Chrysler argued the vehicles were not defective and that the investigation should be closed. Filming in such a severe conditions and making it so easy its a great job. Zierlein notes that Dillon has the ball skills for man coverage and the awareness to play deep safety. Both Ryan and McCain have formally endorsed Trump already, but they also denounced his attacks on a federal judge and on the Khan family, respectively.. Yes, Dish Network free deals are for real. The size of the V shape on the tool will depend largely on the size of your letters and the intended depth of the carving.. Zynga (NASDAQ:ZNGA) can't seem to catch a break. Here's how.. Including his supervisor, BSAS CEO Greg Warren. In the midst of these constant modifications and changes, the history of curling iron has gotten lost in the minds of people.. Since taking its digital media operations in house, the NFL has seen annual visits to its properties quadruple, to 1.2 billion, and the number of fantasy football players triple.